Timetable
Information of our service and vacant seats
You need to make a reservation for Miyajima Light-up cruise by 2 hours before departure.
Select boarding date , please check the embarkation schedule and seat availability .
Regular timetable
2015/3/4 Update
Miyajima Light-up Cruise
Time
Departure time
Arrival time
Information of available seats
1
17:55
18:25
2
18:35
19:05
3
19:15
19:45
4
19:55
20:25
5
20:35
21:05
6
21:15
21:45
Schedule of no operation day
All of the ship is suspended service on Miyajima underwater fireworks.
All of the ship is suspended service on Kangen-Sai (Lunar June 17).
All of the ship is suspended service on The Light-down campaign (July 7).
Even if you no longer has find available seats, sometimes other passengers may cancel the seat. So, please feel free to contact us.
★Recommended Information
We offer "Miyajima Best View Cruise" to you. This cruise operates once a day.
Even if you don't have enough time to take a 'Miyajima Light-up Cruise, you can enjoy this"Miyajima Best View Cruise".
Miyajima O-Torii Cruise
Cruise course
Please come to our waiting room at Miyajima 3rd pier by 15 minutes before departure.
Teach Me, Captain
What time does Miyajima's illumination start?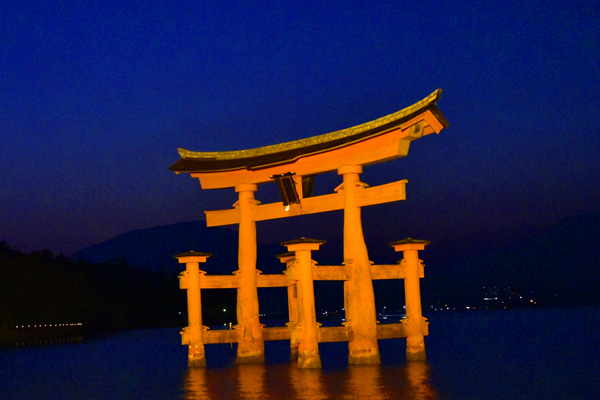 It depends on the time getting dark. Light which illuminates with Miyajima O-torii and Itsukushima shrine has a sensor.
Normally,in summer the time for getting dark is late, but before sunset you can watch beautiful shining O-torii.